Echo Elysium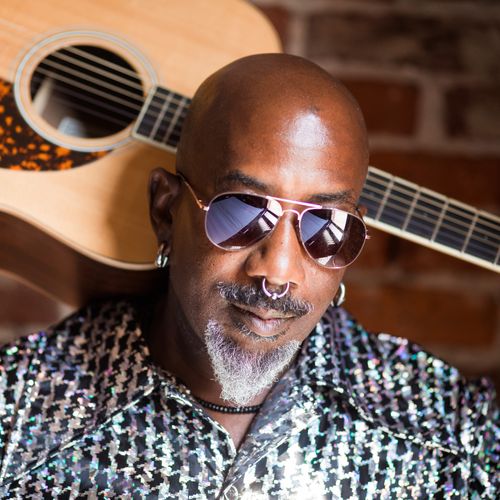 Singer - Songwriter - Guitarist
 Echo Elysium, a nuanced and dynamic electric and acoustic guitarist, has been "transporting audiences to alternate dimensions" for over ten years in the Pacific Northwest.  His performances have been described as a "magical and ethereal" experience.  He is very passionate about his craft and his messages are thought provoking and authentic.
From the cotton fields of Louisiana to the streets of South Central Los Angeles, Echo Elysium has always found his strength, passion and inspiration from singing.  Echo Elysium is influenced by a wide range of genres from Southern Gospel and Rhythm & Blues to Prince and Pink Floyd.  Most recently, Echo Elysium released a record, "Trouble Water," an unapologetic Journey through his personal life experiences via the diverse sounds of Soul, Blues, Hip Hop and Rock.
 In addition to his mellow acoustic side, when it's time to bring the heat, Echo Elysium switches to his beloved Fender Telecaster and analog drum looper to liven up the crowd with a hard edged sound that makes it difficult to sit still. 
2022 SHOWS 
AUGUST 20   LEFT BANK   7 - 10  SPOKANE, WA
SEPTEMBER 6  BUOY BAR & GRILL 5 - 8  COEUR D' ALENE, ID
SEPTEMBER 7  KENDALL YARDS FARMERS MKT   5 - 6:30  SPOKANE, WA
SEPTEMBER 9  STOCKWELLS CHILL'N GRILL   7 - 10    MILLWOOD, WA
SEPTEMBER 10  MILLIES   6 - 9    PRIEST LAKE, ID
SEPTEMBER 16  T'S LOUNGE   7 - 9  SPOKANE, WA
SEPTEMBER 17  LEFT BANK   7 - 10  SPOKANE, WA
SEPTEMBER 30   BEE'S KNEES WHISKEY BAR 6 - 9  HAYDEN, ID
AUGUST 1   KALISPEL GOLF & COUNTRY CLUB   4 - 7   SPOKANE, WA
AUGUST 6    SEASONS     7 - 9     COEUR D' ALENE, ID
AUGUST 11   PARAGON BREWERY 6 - 9     COEUR D' ALENE, ID
AUGUST 12  STOCKWELLS CHILL'N GRILL   7 - 10    MILLWOOD, WA
AUGUST 13   STUDIO 107    3 - 5      COEUR D' ALENE, ID
AUGUST 17    CDA FARMERS MARKET  3 - 5      COEUR D' ALENE, ID
AUGUST 18   BOTTLE BAY BREWERY   7 - 9  SPOKANE, WA
AUGUST 19   MARINA CANTINA   4 -7      COEUR D' ALENE, ID
AUGUST 20   STUDIO 107    3 - 5      COEUR D' ALENE, ID
AUGUST 20   LEFT BANK   7 - 10  SPOKANE, WA
AUGUST 21  STOCKWELLS CHILL'N GRILL   7 - 10    MILLWOOD, WA
JANUARY  1    NORTHERN QUEST CASINO (RIVERBANK TAPHOUSE) 9 - 1am 
JANUARY  13   STEAMPLANT   5:30 - 8:30   SPOKANE, WA 
JANUARY  15    SEASONS     8 - 11     COEUR D' ALENE, ID 
JANUARY  14    JD's PUB    7 - 11     BAYVIEW, ID 
JANUARY  22    STUDIO 107    3 - 5      COEUR D' ALENE, ID
JANUARY  22    LAKERS INN    8 - 11     COEUR D' ALENE, ID
JANUARY  23    CHALICE    6 - 8     COEUR D' ALENE, ID
JANUARY  30    MT. SPOKANE SKI RESTORT    12 - 3     SPOKANE, WA
JUNE  17   STOCKWELLS CHILL'N GRILL   7 - 10    MILLWOOD, WA
FEBUARY  10   STEAMPLANT   5:30 - 8:30   SPOKANE, WA
FEBUARY  11   MT. SPOKANE SKI RESTORT   3 - 5     SPOKANE, WA
FEBUARY  12   NOHA'S SILVER MT. SKI RESTORT   7 - 10   KELLOG, ID
FEBUARY  17   LANTERN   7 - 10  SPOKANE, WA 
FEBUARY  19   MOOSE KNUCKLE   6 - 9    PRIEST LAKE, ID
FEBUARY  27   IRON HORSE 4:30 - 7:30  SPOKANE, WA
MARCH  4    COEUR D' ALENE CASINO   6 - 9    COEUR D' ALENE, ID
MARCH  5    COEUR D' ALENE CASINO   6 - 9     COEUR D' ALENE, ID
MARCH  10   STEAMPLANT   5:30 - 8:30   SPOKANE, WA 
MARCH  11   HIDDEN MOTHERS   6 - 9   SPOKANE, WA 
MARCH  18   OSPREY RUBY RIVER HOTEL  8 - 11  SPOKANE, WA
MARCH  25   STOCKWELL'S CHILL N GRILL  8 - 11   MILLWOOD, WA
MAY  5     LANTERN   7 - 10  SPOKANE, WA   
MAY 6     IRON PIZZA   6 - 8     ATHOL, ID
MAY 7     STONERIDGE COUNTRY CLUB   1:30- 3:30     BLANCHARD, ID
MAY 7     POSTFALLS BREWING COMPANY  6 - 9     POSTFALLS, ID
MAY 1 3   STOCKWELLS CHILL'N GRILL   6 - 8    MILLWOOD, WA
MAY  14   MULLIGANS   6 - 8     COEUR D' ALENE, ID
MAY  20   RAIN LOUNGE   8 - 11  SPOKANE, WA 
MAY  21   STUDIO 107   3 - 5         COEUR D' ALENE, ID 
MAY  21   SEASONS FRESH GRILL     6 - 8     COEUR D' ALENE, ID 
MAY  27   LYFE COFFEE &PUBLIC HOUSE    7 - 9     COEUR D' ALENE, ID 
MAY  28   LAKERS INN    8 - 11     COEUR D' ALENE, ID
JUNE  1    POOL'S PUBLIC HOUSE   6- 9     SOUTH HILL SPOKANE, WA
JUNE  3   STUDIO 107   6 - 8         COEUR D' ALENE, ID
JUNE  4   MULLIGANS   6 - 8     COEUR D' ALENE, ID
JUNE  4   HONEY EATERY   9 - 11    COEUR D' ALENE, ID
JUNE  9  PARAGON BREWING   6 - 8     COEUR D' ALENE, ID
JUNE  10   SEASONS FRESH GRILL     7 - 9     COEUR D' ALENE, ID
JUNE  17   STOCKWELLS CHILL'N GRILL   7 - 10    MILLWOOD, WA
JUNE  20   BRICK WEST BREWING CO.  6- 9   SPOKANE, WA
JUNE  23   POSTFALLS BREWING COMPANY  6 - 9     POSTFALLS, ID
JUNE  24   SILVER MT. SKI RESTORT UP TOP   5 - 8   KELLOG, ID
JUNE  25   OSPREY RUBY RIVER HOTEL  8- 11   SPOKANE, WA
JULY  1   MOOSE KNUCKLE   6 - 9    PRIEST LAKE, ID
JULY  2   MOOSE KNUCKLE   6 - 9    PRIEST LAKE, ID
JULY 8   SEASONS FRESH GRILL     7 - 9     COEUR D' ALENE, ID
                                        2021 SHOWS   
JANUARY  9     WESTWOOD BREWING COMPANY     11 - 2     RATHDRUM, ID
JANUARY  9     SEASONS     7 - 9     COEUR D' ALENE, ID
JANUARY  15     MULLIGANS     6 - 8     COEUR D' ALENE, ID
JANUARY  23     THE LOFT STATELINE     8 - 11      POST FALLS, ID
JANUARY  28     NORTHERN QUEST CASINO  (    6 - 10       AIRWAY HEIGHTS, WA
JANUARY  29     HONEY     8 - 11     COEUR D' ALENE, ID
FEBRUARY  5 & 6     COEUR D' ALENE CASINO  (NIGHTHAWK  LOUNGE)     8 - 11     
COEUR D' ALENE, ID 
FEBRUARY  26     MULLIGANS     6 - 8     COEUR D' ALENE, ID
FEBRUARY  27     THE LOFT     7 - 8     POST FALLS, ID    
MARCH  3     CORBY'S     6 - 9     POST FALLS, ID
MARCH  12 & 13      THE RAIN  LOUNGE     8 - 10     SPOKANE, WA
MARCH  20     POST FALLS BREWING COMPANY     6 - 9     POST FALLS, ID
APRIL  8     CORK & TAP     7 - 9     COEUR D' ALENE, ID
APRIL  22    CORK & TAP     7 - 9    COEUR D' ALENE, ID
APRIL  23     THE RAIN LOUNGE     8 - 10     SPOKANE, WA
APRIL  24     POST FALLS BREWING COMPANY     1 - 4       POST FALLS, ID
APRIL  30      HONEY   8 - 11      COEUR D' ALENE, ID
MAY  1     PARAGON BREWING     3 - 5     COEUR D' ALENE, ID
MAY  1     HONEY     8 - 11     COEUR D' ALENE, ID
MAY   5     THE IRON HORSE     5:30 - 8:30     SPOKANE VALLEY, WA
MAY  6      POST FALLS BREWING COMPANY     6 - 9     POST FALLS, ID
MAY  7     CORK & TAP     7:30 - 9:30     COEUR D' ALENE, ID
MAY   8      MULLIGANS     6 - 8     COEUR D' ALENE, ID
MAY  14​​​​​     STUDIO 107     6 - 8     COEUR D' ALENE, ID
MAY  15     SEASONS     7 - 9     COEUR D' ALENE, ID
MAY 21     LEFTBANK WINE BAR     7 - 10     SPOKANE, WA
 MAY  22     MILLIE'S     6 - 8     PRIEST LAKE, ID     
MAY  28     CORK & TAP     7 - 9     COEUR D' ALENE, ID
MAY  29 & 30     MOOSE KNUCKLE     12 - 4     PRIEST LAKE, ID
MAY  29 & 30     JD'S BAR & GRILL     8 - 12     BAYVIEW, ID
JUNE  2     THE SAWMILL GRILL  (  302 N SPOKANE STREET )    6:30 - 8:30     POST FALLS, ID
JUNE  3     RAIN LOUNGE     8 - 10     SPOKANE, WA
JUNE  4     BLACK ROCK     ( PRIVATE EVENT)     5:30 - 8     COEUR D' ALENE, ID
JUNE  5     POST FALLS BREWING COMPANY     6 - 9     POST FALLS, ID
JUNE  11     STUDIO 107     6 - 8     COEUR D' ALENE, ID
JUNE  12     KYRS RADIO SHOW     12 - 2PM     SPOKANE, WA
JUNE  12     CORK & TAP     7 - 9     COEUR D' ALENE, ID
JUNE  17     RAIN LOUNGE     8 - 10     SPOKANE, WA
JUNE  18     STOCKWELL'S CHILL & GRILL  (outside)    5 - 8     SPOKANE, WA 
JUNE  13     THE BOUY     1 - 4     COEUR D' ALENE, ID
JUNE  19     STUDIO 107     3 - 5     COEUR D' ALENE, ID
JUNE  19     SEASONS     7 - 9     COEUR D' ALENE, ID
JUNE  23     FARMER'S MARKET  (SHERMAN AVE)     4 - 7     COEUR D' ALENE, ID
JUNE  24     PARAGON BREWING       3 - 5     COEUR D' ALENE, ID
JUNE  25th & 26th     COEUR D' ALENE CASINO  (NIGHTHAWK LOUNGE)      8 - 10     COEUR D' ALENE, ID  
JUNE  27     THE BOUY     1 - 4     COEUR D' ALENE, ID
JULY  2     JD'S BAR & GRILL     11:30 - 1:30PM     COEUR D' ALENE, ID
JULY  2     STUDIO 107      6 - 8     COEUR D' ALENE, ID
JULY   3     OSPREY     6 - 9      SPOKANE, WA
JULY  4     MOOSE KNUCKLE    12- 4     PRIEST LAKE, ID
JULY  9     COEUR D' ALENE  CASINO  ( CHINOOK  LOUNGE )     6- 9     COEUR D' ALENE, ID
JULY  10     COEUR D' ALENE  CASINO  ( CHINOOK LOUNGE )     6 - 9   COEUR D' ALENE, ID
JULY  11     THE BOUY     1 - 4     COEUR D' ALENE, ID
JULY  15     CARLIN BAY     5 - 8     HARRISON, ID
JULY  17     PLUMMER DAYS     11 - 2     PLUMMER, ID 
JULY  24    WESTWOOD  BREWING     11 - 2     RATHDRUM, ID
JULY  25     THE BOUY     1 - 4     COEUR D' ALENE, ID
JULY  30     SILVER MOUNTAIN ( up top )     5 - 8     KELLOGG, ID
JULY  31     POST FALLS BREWING COMPANY      6 - 9     POST FALLS, ID
AUGUST  6     STUDIO 107     6 - 8     COEUR D' ALENE, ID
AUGUST  7     RUBY HOTEL     6 - 9     SPOKANE, WA  
AUGUST 8     THE BOUY     1 - 4     COEUR D' ALENE, ID
AUGUST  11     FARMERS MARKET ( SHERMAN AVE )     4 - 7     COEUR D' ALENE, ID
AUGUST  12     POST FALLS BREWING COMPANY     6 - 9     POST FALLS, ID
AUGUST  13     RUBY RIVER HOTEL     6 - 9     SPOKANE, WA
AUGUST  14     STUDIO 107     3 - 5     COEUR D' ALENE, ID  
AUGUST  14     OLD SCHOOL LIQUOR BAR     8 - 11    COEUR D' ALENE, ID
AUGUST   21     NOAH'S  CANTEEN     6 - 9     KELLOGG, ID
AUGUST  22     THE BOUY     1 - 4     COEUR D' ALENE, ID
AUGUST  28     THE BUOY     5 - 8     COEUR D' ALENE, ID    
SEPTEMBER  4     OSPREY     6 - 9     SPOKANE, WA
SEPTEMBER  5     THE BOUY     1 - 4     COEUR D' ALENE, ID
SEPTEMBER  16    TRAILS END BREWERY     5 - 8    COEUR D' ALENE, ID
SEPTEMBER  18    BRICKWEST BREWERY     4 - 6     SPOKANE,WA
SEPTEMBER  18    LEFT BANK     7 - 10     SPOKANE, WA
SEPTEMBER  19     RIVERBANK TAPHOUSE   5 - 7:30     NORTHERN QUEST CASINO 
SEPTEMBER  24     MILLIES     6 - 9   PRIEST LAKE, ID
SEPTEMBER  25     LAVENDER SUN FALL FESTIVAL     4 - 6   COEUR D' ALENE, ID
SEPTEMBER  25     OSPREY RUBY RIVER    8 - 11  SPOKANE, WA
OCTOBER  1         OSPREY RUBY RIVER     8 - 11     SPOKANE, WA
OCTOBER 2          POSTFALLS BREWERY     3 - 5    POSTFALLS, ID
OCTOBER 2          LEFT BANK     7 - 10    SPOKANE, WA
OCTOBER   8        STUDIO 107     6 - 8     COEUR D' ALENE, ID
OCTOBER   9        SEASONS     7 - 9     COEUR D' ALENE, ID
OCTOBER   14      OSPREY RUBY RIVER     8 - 11     SPOKANE, WA
OCTOBER   28     NIGHTHAWK LOUNGE   5 - 7  TLC PRE-FUNK PARTY                                                                CDA CASINO, COEUR D' ALENE, ID
OCTOBER   29     CHINOOK LOUNGE    6 - 9     CDA CASINO, COEUR D' ALENE, ID
OCTOBER   30     CHINOOK LOUNGE    6 - 9     CDA CASINO, COEUR D' ALENE, ID
NOVEMBER 6       OSPREY RUBY RIVER   8 - 11    SPOKANE, WA
NOVEMBER 13    LEFT TBANK  7 - 10    SPOKANE, WA
NOVEMBER 19     OSPREY RUBY RIVER   8 - 11    SPOKANE, WA
NOVEMBER 26     OSPREY RUBY RIVER  8 - 11    SPOKANE, WA
NOVEMBER 27    THE LOFT   6 - 9    POSTFALLS, ID
DECEMBER 4      OSPREY RUBY RIVER   8:30 - 11:30    SPOKANE, WA
DECEMBER 10    LEFT BANK   7 - 10    SPOKANE, WA
DECEMBER 18    OSPREY RUBY RIVER   8:30 - 11:30    SPOKANE, WA
Tune In For Additional Dates
                      2020 SHOWS
Tuesday, April 2              Kaiju Sushi & Spirits                                 7 - 10
Thursday, April 4             The Tap & Cork                                           6 - 8
Friday, April 5                    The 1210 Tavern                                        9 - 1
Saturday, April 6              Cosmic Cowboy                                          5 - 8
Friday, April 12                  Seasons                                                          6 - 9
Saturday, April 13             Post Falls Brewing Company               6 - 9
Saturday, April 20             The Tap & Cork                                          6 - 9
Saturday, April 27              Westwood Brewing Company            7 - 10
Thursday, May 2                 Post Falls Brewing Company              6 - 9
Saturday, May 4                  The 1210 Tavern                                       8 - 12
Tuesday, May 7                    Kaiju Sushi & Spirits                               7 - 10
Thursday, May 9                  The Cork & Tap                                         6 - 8
Friday, May 10                      Studio 107                                                  6 - 8
Monday, May 13                  Blues Night at Cosmic Cowboy         6 - 8
Friday, May 17                      Cosmic Cowboy                                       6 - 9
Saturday, May 18                The Cork & Tap                                       7 - 9
Sunday, May 19                    Iron Horse Bar & Grill - Valley            5 - 8
Thursday, May 23                The Tap & Cork                                         6 - 8
Friday, May 24                      The Moose Knuckle - Coolin, ID         5 - close
Saturday, May 25                The Moose Knuckle - Coolin, ID         12 - close
Sunday, May 26                    The Moose Knuckle - Coolin, ID         12 - 4
Thursday, May 30                 The Cork & Tap                                        7:30 - 9:30
Saturday, June 1                  PRIDE in CDA                                              2 - 3
Tuesday, June 4                   Kaiju Sushi & Spirits                                7 - 10
Wednesday, June 5             CDA Farmer's Market                             4 - 7
Saturday, June 8                  Mulligans                                                     6 - 8
Saturday, June 8                  The Hogfish                                                9 - 12
Monday, June 10                  Blues Night at Cosmic Cowboy          6 - 8
Wednesday, June 12           South Perry Pizza                                     6 - 8
Thursday, June 13               The Cork & Tap                                          7:30 - 9:30
Saturday, June 15                Westwood Brewing Company            6 - 9
Friday, June 21                      Studio 107                                                   6 - 8
Saturday, June 22               Prohibition Gastro Pub                           6 - 9
Thursday, June 27              The Cork & Tap                                           7:30 - 9:30
Thursday, June 27               Moontime                                                     9 - 12
Friday, June 28                    Pend Orielle Winery - Sandpoint         5 - 8
Thursday, July 4                  Post Falls Brewing Co.                            6 - 9
Friday, July 5                        The Cosmic Cowboy                                5 - 8
Friday, July 5                        The 1210 Tavern                                        9 - 12
Saturday, July 6                  The Cork & Tap                                           7:30 - 9:30
Sunday, July 7                     Crafted                                                           5 - 7
Monday, July 8                    Blues Night at Cosmic Cowboy           6 - 8
Tuesday, July 9                   Kaiju Sushi & Spirits                                 7 - 10
Thursday, July 11               The Cork & Tap                                          7:30 - 9:30
Friday, July 12                      The Moose Knuckle                                 6 - 9
Saturday, July 13                 The Moose Knuckle                                6 - 9
Friday, July 19                       315 Tapas & Martinis                             5:30 - 8:30
Saturday, July 20                 Prohibition Gastro Pub                         6 - 9
Wednesday, July 24           LIVE After 5 - McEuen Park CDA         5 - 6:15
Thursday, July 25                The Cork & Tap                                         7:30 - 9:30
Friday, July 26                       Rain Lounge                                                9 - 12
Thursday, August 1             Stella's at Elk Point                                  5:30 - 7:30
Saturday, August 3              Cosmic Cowboy                                         5 - 8
Monday, August 5                 Gleason Fest -private event                 5 - 9
Tuesday, August 6               315 Tapas & Martinis                                 5:30 - 8:30
Thursday, August 8              The Cork & Tap                                          7:30 - 9:30
Friday, August 9                     The Moose Knuckle                                 5 - 9
Saturday, August 10             The Cork & Tap                                         7:30 - 9:30
Monday, August 12                Cosmic Cowboy Blues Night              6 -8
Wednesday, August 14          Iron Horse Spokane Valley                 5 - 8
Thursday, August 15               Idaho's Got Talent Silver Lake Mall 6 - 8
Friday, August 16                     Silver Mtn. - Mountain Top Venue   5 - 8
Saturday, August 17               Silver Mountain - Noah's Cantina    1 - 4
Saturday, August 24               Post Falls Brewing Company             6 - 9
Sunday, August 25                  Private Party                                             4 - 7:30
Tuesday, August 27                Sweet Lou's BBQ                                     6 - 9
Friday, August 30                     The Buoy - CDA Park                              5 - 8
Friday, August 30                      The Hogfish                                               10 - 1
Saturday, August 31                Pig Out - Beer Garden  Stage             12 - 1:45
Saturday, August 31                Silver Mountain - Noah's                      6 - 9
Sunday, September 1             The Moose Knuckle                                5 - 9
Monday, September 2            Cosmic Cowboy Blues Night              6 - 8
Tuesday, September 3           315 Tapas & Martinis                             5:30 - 8:30
Thursday, September 5          The Gilded Unicorn                              8 - 10
Friday, September 6                 Rain Lounge                                            8 - 11
Saturday, September 7            Private Wedding                                   4 - 8
Friday, September 13               315 Tapas & Martinis                           5:00 - 8:00
Saturday, September 14          CDA Farmers Market                           9am - 1:30
Saturday, September 14           Seasons                                                   6 - 9
Saturday, September 14           The Hogfish                                           10 - 1
Friday, September 20                Pend Orielle Winery                            5 - 8
Saturday, September 21          Private Golf Tournament                  7 - 10
Wednesday, September 25     River Rock Taphouse                         6:30 - 9:30
Thursday, September 26          Moontime                                                9 - 11:30
Friday, September 27                Silver Mountain Noah's Cantina    6 - 9
Saturday, September 28          Private Party                                           4 - 7
Saturday, September 28          The Cork & Tap                                      7:30 - 9:30
Tuesday, October 1                    315 Tapas & Martinis                           6 - 9
Friday, October 4                        Chinook Lounge CDA Casino           6 - 9
Saturday, October 5                   Chinook Lounge CDA Casino           6 - 9
Thursday, October 10                Gold, Glitz & Glam Bozzi @ Fox      6 - 10
Friday, October 11                      Studio 107                                               6 - 8                             Saturday, October 12                Seasons                                                     6 - 9
Sunday, October 13                    The Hogfish                                            9 - 12
Friday, October 18                      Cosmic Cowboy                                   6 - 8
Saturday, October 19                River Rock Taphouse                          6 - 9
Saturday, October 26                The Viking                                               9 - 12
Monday, October 28                  Cosmic Cowboy Blues Night           6 - 8
October 31 - Nov. 13th             OFF
Saturday, November 16          River Rock Taphouse                          6 - 9
Tuesday, November 19            Sweet Lou's                                            6 - 9
Friday, November 22                Borrochos                                                6 - 9
Saturday, November 23           One Tree Cider House                        6 - 9
Friday, November 29                 Pend Orielle Winery                            5 - 8
Saturday, November 30           Post Falls Brewing Company           6 - 9
Thursday, December 5             Moontime                                                9 - 11:30
Saturday, December 7              Private Party                                          7 - 11
Tuesday, December 10             Bozzi 20 Under 40                               5 - 8
Thursday, December 12           The Cork & Tap                                     7 - 9
Friday, December 13                  Seasons                                                    6 -9
Saturday, December 21            Cosmic Cowboy                                    5 - 8
Saturday, December 28             The Cork & Tap                                     7 - 9
Thursday, January 2                   The Gilded Unicorn                            8 - 10
Saturday, January 4                     Noah's Canteen                                  7 - 10
Friday, January 10                        Iron Goat                                                7 - 9
Monday, January 13                    Cosmic Cowboy                                   5 - 8
Friday, January 24                        Left Bank Wine Bar                             7 - 10
Saturday, January 25                  Pend Orielle Winery                           5 - 8
Tuesday, January 28                    The Viking                                              8 - 10
Thursday, January 30                 The Steam Plant                                  5:30 - 7:30
Friday, January 31                        Private Party                                          9 - 11
Friday, January 31                        Mulligan's                                               6 - 8
Friday, January 31                         Hogfish                                                   9 - 12
Saturday, February 1                   Season's                                                  6 - 9
Wednesday, February 5              Iron Horse                                              5:30 - 8:30
Thursday, February 6                  The Gilded Unicorn                            8 - 10
Friday, February 7                         Studio 107                                              6 - 8
Monday, February 10                   Cosmic Cowboy- CDA                        5 - 7
Friday, February 21                       Cosmic Cowboy - Spokane             5 - 8
Saturday, February 22                 Mulligan's                                               6 - 8
Tuesday, February 25                   Sweet Lou's                                           6 - 9
Saturday, February 28                 Noah's                                                      7 - 10
Monday, March 9                            Cosmic Cowboy - CDA                       5 - 7
Friday, March 13                              Noah's                                                     7 - 10
Thursday, March 19                        Nighthawk Lounge                           8 - 11
Friday, March 20                              Pend Orielle Winery                          5 - 8
Saturday, March 21                        Huckleberries                                      6 - 8
Saturday, April 4                             Left Bank Wine Bar                            7 - 10
Monday, April 6                               Cosmic Cowboy - CDA                      5:30 - 7:30
Friday, April 17                                 Mulligan's                                             6 - 8
Friday, May 1                                     Seasons                                                 6 - 9
Monday, May 4                                Cosmic Cowboy                                  5:30 - 7:30
Saturday, May 9                              Iron Goat                                                7 - 9 
Saturday, May 16                             Seasons                                                 6 - 9
Saturday, May 23                            Huckleberries                                      6 - 8
Tuesday, May 26                              Sweet Lou's BBQ                                6 - 9
Friday, May 29                                   Mulligan's                                              6 - 8
Saturday, May 30                             Cosmic Cowboy Spokane              5:30 - 8:30
You are visitor number: 4230